hope for HIV sufferers, pass it on, just do it!
INFOCUS247
Cuba is the first country in the world to eliminate mother-to-child HIV transmission, the World Health Organization announced.
Officials said it shows that an end to the AIDS epidemic is possible, and they expect more countries to seek validation from the World Health Organization. The country was also the first to eliminate mother-to-child transmission of syphilis.
"Eliminating transmission of a virus is one of the greatest public health achievements possible," Dr. Margaret Chan, the WHO director-general, said in a Tuesday press release. "This is a major victory in our long fight against HIV and sexually transmitted infections, and an important step towards having an AIDS-free generation."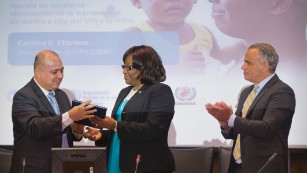 The WHO and the Pan American Health Organization began to work with Cuba and other countries in 2010 to eliminate mother-to-child transmission of HIV and syphilis. The country's efforts…
View original post 210 more words